The Tevis 2011*   It's always an adventure!
(* The Tevis with an asterisk)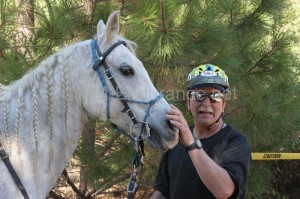 This ride just seemed like it did not want to want to be held.  It was supposed to happen in the summer, but there was too much snow in the Sierra to allow it.   Something like 10 feet was still standing in and around Robinson Flat in August, and Squaw Valley had a reported 700 inches this winter, which is something like 60 feet of snow?   That's a bigger snowpack than a lot of ski lift towers are high!  It sure would not work for the horses.   Rather than cancel, those dedicated WSTF people made the call to move the ride to October 8th- a very daring move to say the least.  There were concerns about the fewer daylight hours, the campgrounds, the cold, and perhaps would it rain?  Yeah, that turned out to be the biggie.   Not only did it rain all over northern California, but it snowed, again, in the Mountains.   Not your nice, light, fluffy dusting of powder.  No sir- this was a storm that dumped between 2 and 3 feet at the upper elevations.   In October?   It's the Donner party all over again.  At least that's what I thought when on Thursday afternoon I nervously looked up at the ski runs at Squaw Valley that were covered in snow, just begging for skiers, but I'm getting ahead of myself.
Lucky for me I was really sick the weekend before the ride.  So sick that I would not have been able to go if it had been a week later.  Sometimes my luck works out in the right direction!   I felt a little funky on Wednesday, but not enough to keep me away from the ride.  (I just wired up a box of Kleenex and a bottle of DayQuil  on the front of my saddle.)  Donnie and I are having our best ever year and he's in splendid shape.   My wife Judy once again "volunteered" to crew for me and my Donnie on my ninth start, Donnie's fourth.   He's three for three here- twice under me and once under Judy.  The deal is if Judy crews for me at Tevis I get to crew for her at 5 other rides during the year (if I don't ride)  It's a fair deal, since crewing at Tevis is more work than riding it.  Our best buddy Becky Glaser also joined in to provide the much needed second vehicle, as well as giving Judy a hand.  It's SO nice to have a crew, especially these people with such experience.   They just know what to do.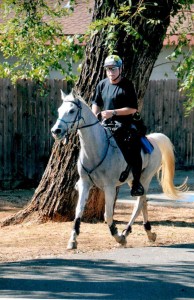 We tried to pack up and leave for the ride Thursday morning as we usually do, but we found ourselves watching a movie in the house while the rain poured outside our home in Hayward.   I wasn't packing up in this.  I kept looking at the road conditions- highway 80 was still open without chains amazingly enough.  (I ordered some for the trailer a couple of days before we left, just in case.  You know- If you have 'em you won't need 'em.)   At about 10:30am it let up and blue sky appeared.   We tossed our stuff in the rig, loaded up the boy and set forth in the mighty Pony Tug wondering what we were in for.   The trip up was completely uneventful until we started climbing the Sierra.   It was blue sky and clear all the way, with roads open, but the snow on the ground in the mountains started about 3000 feet.  It kept getting deeper and deeper, until at the Donner summit there was easily 2 plus feet on the ground.  It looked like the dead of winter.   There were small walls of plowed snow on the edges of the highway.  All I could think was "there is NO WAY the ride is going to through this snow."  This is 7000 feet; the top of Squaw is above 9000.  It sure was a nice day, though.   We rolled down through Truckee and down highway 267 to the turn for the entrance to Robie Park.  It wasn't marked, but we turned in to the forest onto the narrow paved section.  Uh oh- here comes a rig from the other direction.   And another.  A third.   This can't be good.   We pause at the tow truck, and see a rig turning around in a spot that worked.  The driver, Leigh Bacco, stopped and rolled her window down as she passed us coming out and told us it was a no-go.  A rig had been stuck ahead of us, and the tow truck driver had apparently said it was a thousand dollar tow job, and that there was no way he was going back in there, so we were on our own.   Leigh had made the right call!  She said she was planning on driving over to Squaw Valley and hanging out there until we knew what to do.   It took about a half hour to get to Squaw, but we were sure wondering out load what in the heck would happen with the ride.  Start at Squaw?  Um, no, not with all this snow.   We pulled in and found a nice place in the parking lot to set up the rigs.  We unloaded the boys and put blankets on; it was 4:30pm, but under 30 degrees and getting colder.  Donnie and the other horses happily stood and ate while Judy and I, Leigh, and Matt Scribner all threw on ski parkas and sat around enjoying Bloody Marys and Gin and Tonics that Matt graciously made.  They were great!   We were waiting for the decision that would be announced at 5 pm.  Smart phones are wonderful- sure enough we saw the announcement that Robie Park was out of the question and we should all head for Auburn.  There would be a ride!   Of some sort.   The boys had been in the trailer for too many hours straight, so we walked over to the local Sushi restaurant and had a fantastic dinner and really enjoyed ourselves.  Just like being on a Ski vacation!  With my horse?  It was that cold!   After dinner we trundled the boys back in to the trailers and drove on back to Auburn.   I was quite relieved, since I had already made up my mind I would not start if they intended to head up over Squaw Valley.   We found a nice spot in the grass field by the finish, put up the horses and went to bed by 10:30 pm.
Friday morning brought all kinds of speculation.  There would be a ride, but where?  How?  It seemed pretty unlikely that anything could be done.  I chatted with Barbara White in the morning and she gave me the straight scoop-  a hundred miles, out backwards on the trail to Foresthill, to Chicken Hawk, then an out and back loop, then back on to Auburn the way we came.   A Tevis lollipop ride!   The mind reels!   What about the start?  On the finish single track?  Come on!  Two way traffic on the California loop?   You have to be kidding.   What about the river in the morning?   Would it be lowered in time?  These WSTF crazies re-did the ride in 24 hours that it had taken them a year to plan.   Who would be where, when, I can't believe how much they must have gone through.   The ride meeting was pretty funny.  Poor Chuck Staley probably had not slept in 2 days, and Tony Benedetti tried to explain the start.   What pens?   All we had to do was walk along the railroad tracks,  go to a field, muster there awhile, head through a gate under the underpass,  through the skateboard park, down a paved road for 10 minutes, hit the field at the bottom,  not enter the ditch on either side, only enter the lower pen in one spot, circle around, and they would release us at 6:30 am when we could at least see.  Right.  Everyone was really wondering how this would work.   I tried to calculate a start time that would get us just to the start just as they left.
It turned out to be unbelievably good.  I mean REALLY good.  Like better and easier than any Tevis start I have been on.  I doubt Tony had any sleep Friday night, but he and his team need a real pat on the back.  It worked perfectly and right on time.  There were almost 180 riders and everyone was feeling pretty good about the start.   I was riding with long time buddy Brenda Benkley on her friend Cindy's horse Fuego.  We started out walking on the trail for only a couple of minutes, but then it turned into a nice calm trot on dirt roads with footing so good you could not have purchased it.   The rain had hit Auburn as well- Tevis with no dust?  Could it be?   It was.  We trotted along together in a long, long string of horses, but after only a couple of miles the line was strung out enough to ride the pace you wanted.  We twisted around on some fire roads I have not been on before, and went down the old single track trail, but suddenly we are dumped right out on the road that runs along the river.  I know where I am now!  The American river was on our right- a weird thing for sure, but we headed east along the bank and trotted to the no hands Bridge- a strange feeling going across it in this direction, in the daylight.  There was a mob of spectators there cheering for everyone!   Across the bridge and up the little single track over to the first little bottleneck of the day.  It took a couple of minutes for everyone to funnel down the little trail to the highway; we were told the good news that we could stay mounted.   Across highway 49 and a quick trot down the gravel road brought us to the quarry and a trot by.  My buddy Jamie Kerr said just keep on truckin!   It was still pretty cool out as we trotted along the dust free, perfect roads next to the river, but it was on the left!  And its daylight.   Pretty neat!   I caught up to Lake Almanor riding buddy Lisa Schneider on her great horse Tally; she and I would see and pass each other about 20 times throughout the day.  Donnie and Fuego went along together like a matched pair of cart horses.  We caught up to a little commotion up ahead- there was a horse bucking and jumping all over like it was being attacked by bees.  It was one of the Australian riders, a woman who did a great job of staying on.   She and her riding partner stopped; we passed by but did not see any sign of problems on the trail.   Two minutes later we hear a horse come galloping up behind us- it's the Australian's grey coming fast, but uh oh, no rider!   I turned Donnie sideways on the road and the horse stopped.  That's good!  I turned to get its reins to take it back, but it turned around as I did, and started to walk back.  I popped it on the butt with my reins and it took off at a canter back the way it came.  Okay, that's excellent!  Run home Lassie!  We learned later that is was indeed bees that had stung both the horse and rider.  We rode along to the single track that leads to the river crossing; I was amazed we were there already.   The river was about normal, but deep enough that I got both my feet wet.  He's not that tall.  We sloshed across with about 20 horses, but no mishaps at all.  The deep beach sand along the river bed was wet and offered perfect footing.  No dust, no sand.  We wound along the nice trails for a couple of miles after the river crossing and popped out on the road at Francisco's.  Up the tight little trail and into the vet check.  Vet check?  Ah no, it looked more like a crowded Tokyo train station at commute hour, but with horses!   Francisco's can probably hold 30 or 40 horses comfortably on a good day, but I kid you not, I think there were over a hundred in here.   Oh man, watch out for kicking!   Belly up to the bar- the water troughs were packed solid with horses.   If you looked at the troughs from a helicopter above, it would have looked like a bunch of big, black sunflowers with the horses being the petals.  Nick's Endurance "guideline" number one-  in a situation like this, where there are LOTS of riders waiting for water, please don't let your horse stand around and maybe snack on the alfalfa some dope threw in the trough.  Get in, let the horse drink, and get out so others can.   The steam from all the horses made the place look like it was on fire.   It actually looked pretty neat, but it was a little tight in there.  My vet buddy Rob Lydon was a busy bee that morning- he told me the next day he himself looked at 48 horses in that check.  Brenda and I got in and out as quick as possible but it took about 15 minutes.  Not bad, all things considered, but we did get lucky with a newly formed vet line.   We scurried down to the river road, and onto the California loop single track that had been worked on before the ride to widen it.  Nice job guys!  I was expecting some kind of freeway after hearing about the work, but it turned out they just widened some really narrow single track to about 3 feet wide, and very nice to trot on.  Not wide enough to pass other riders unfortunately, but 80% of the single track on this ride is like that.   Of course it had perfect traction and no dust, which would become the order of the day.
Riding the whole California loop backwards was an absolute treat.  The trail was in perfect shape, it was cool out, and I could see the trail!   The head vet said riding a trail backwards is a different ride- he's right.  It's a pretty good climb up to Foresthill from Auburn, and the last climb out up from Dardenel's creek is a good pull.  We scooted along the whole section with a few other horses, including my 20 Mule Team riding buddy Monica Bennet on her first Tevis, and did not run into any crowds until the end of the loop up into the first big check at Foresthill.  I was shocked to see we had done the 35 miles in less than 5 hours.  Time fly's when you are having fun.   My crack crew was waiting and tended to the boy with precision and skill.  All I had to do was sit and eat.  What a life.   It was strange, though, since everyone could tell who was who since there was no dust.  Usually every horse in Foresthill is a grey from the dust, and you can't tell the men from the woman from the dirt.  We vetted through quickly and let the boys eat for their first hour.   It was strange heading down Bath road, but down we went into the Volcano Canyon riding with Christoph Schork.   In no time we were crossing the creek and wound up the single track to the top of the hill and down into Chicken Hawk for a drink, a snack for the boys, and water for us.   Now we got to go do the new part of the trail- an 8 mile jaunt down a wide gravel road called the Gorman Ranch Road, all the way down to the Mosquito Ridge.  About 10 minutes after we left Chicken Hawk the first time, here come the leaders-  Jeremy, Dennis, and Rachel coming back up the hill into the check.  It was a long, downhill, kind of boring trot to the bottom that took about 50 minutes.  I believe it dropped 1800 feet in those 8 miles.   We were kind of bored, so we counted each horse as they came back up the road to see where we were overall.  It was fun to know so many riders- high fives and handshakes as you pass on the up or down.  There was water at the bottom for horse and rider, but Fuego was not drinking very well.  Donnie slurped down his share, so we headed back up at a nice, slow trot, all the way back up that long hill.  It took a few minutes longer, but not much to get back in to Chicken Hawk for a gate-and-go hold.   Fuego still would not drink, but he was eating okay.   Donnie recovered right away and was eating well, but we hung around for almost a half hour waiting for Fuego to get with the program.   He passed the vet check okay, but the vet said he was a little dehydrated.   Brenda said right up front he had not been drinking, and considered pulling him.   The vet suggested taking it easy into Foresthill and see if he starts drinking.  It's only 4 miles and half downhill.
We pretty much walked down and up the Volcano Canyon into Foresthill, and up Bath road and all the spectators who are cheering and clapping.   Fuego had indeed drunk at the creek, and had a big drink at the Julie Suhr trough on the way up.  He looked better in the check, and met criteria easily, so Brenda elected to go on.  We wished he would pee, though.   Donnie was his usual recovering self, and impressed the vets.  Brenda and I got to sit and eat Chicken wings while the crews did all the work.   Uh- look what time it is!   Our out time from Foresthill was 5:32.   It was still blazing daylight.  This is REALLY weird.  I usually leave here just as the sun is setting or slightly after, and here we have a couple of hours of sunlight left.  It was great fun walking through the town of Foresthill with all the spectators and parties going on.   A guy asks us our numbers and speaks into a walkie-talkie.  A minute later we walk past this announcer's booth with some women in it using a PA system. "And here we have Brenda Benkley and Nick Warhol, riding Fuego and Donnie!"  The crowd cheers, you gotta love it.  Everyone is clapping, happy- it's a nice scene.   A man and his wife tell me that I'm amazing.   I just point to my horse and reply "no, HE's the amazing one here."   We walk past the craft fair with people bustling about.   Sorry Judy, I'd have stopped and picked up a set of earrings for you, but I forgot my credit card.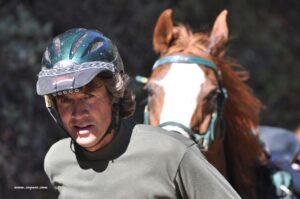 Out of town now and onto the downhill trail towards the river.  Who should appear from behind other than the unbelievable Barbara White.  She's riding Brooke again this year on Barbara's 41st Tevis, looking for her 31st buckle.  (If she had that many physical buckles she could open her own silver mine)  Every time I think about it I still can't believe what she has accomplished.    This is what riding the Tevis is all about.  (Just ask Barbara's Mom!)  She joins Brenda and I for the journey back the way we had come this morning.  We walked and led down to the creek where we hang the right turn and start out along the river. The three of us head west on the perfect, moist trails and do something I have never done- ride almost all the way to the top of the big switchbacks in the daylight.  The California loop really is a fun trail- its single track that just winds along for a couple of hours with very little serious up or down. At the water stop at Cal 2 Fuego finally pee'd, and it looked very good- lots of volume and clear.  He was drinking much better.  We headed down the switchbacks on the narrow trails walking and jogging in the dark.  The moon was about 4/5 perhaps, and shed some nice light on the trails in some spots.  Donnie tripped pretty big one time- once my heart started back up again we continued on down the trails towards the big climb that precedes Francisco's.  It's just an annoying road that's pretty steep, but not too long, that goes straight up and right back down.   We just need a little trail to bypass it.  I'll bring my neighbor's CAT-D4 and fix that for next year!  Up and down the silly road, then the cool trails that dump us back at the river road and back into Francisco's.
Back to Francisco's.  I was still wearing my nylon tee shirt, but once stopped, I put the light jacket back on.  It was a different world in here now.   Maybe 8 horses, very calm, quiet, mellow, relaxed.  The place is lit by propane lanterns- it emanates a neat, hissing sound in the very dimly lit area.   The workers come right up and stick a blanket on the horses as we walk into the check.   Donnie was recovered when we got there; Fuego followed a couple minutes later.  It's good to let them eat here a while, so we let them work on the provided mash and hay, then took them to the vets.   Donnie flashed right through, but when Brenda trotted Fuego he was three legged lame.   The kind where the rider jogs off with the horse in hand, and everyone says: "stop, STOP!"   Huh?   What the heck?  Rob Lydon had a look and found rubs from splint boots, but I'm not sure they would do that.   He was REALLY off.   I remembered being pulled here for lameness on Holly years ago, and what a heartbreak it is to have to stop so suddenly when it's going so well.   I ate a couple of sandwiches, hugged Brenda good bye, and set off down the trail.  I was really bummed for a while, but it's part of the game.   Brenda led up to White Oak Flat and caught a trailer ride back to the finish, getting back to the finish in less than 2 hours.
It was getting pretty cool out as the night wore on.  I led Barbara on down the nice trail towards the river crossing, Donnie just bopping along at whatever pace I asked.   This set of trails is quite fun- they just twist along, are nice and flat with a few tight switchback turns you can trot through quickly.  We rode along in silence, me still bummed about Brenda.  The river came up pretty quickly, and we rode into the party of the weekend for sure.  Music, probably 15 people around, dancing, well, maybe no dancing, but it sounded like they were all having a great time.  (Should have stopped for a beer)  Across we went, the river being much lower this time around, sparing my nice dry shoes.   I really like the sight of the American River with glow bars stretching across it in a crescent moon shape, bouncing and glittering in the current, showing you the way.  Up the steep trail out of the river bed, onto the single track trail and a lot of trotting along the river that is where it should be- on the right.  It's fun to see camps of people out having fun along the river, laughing and partying- hey, look what time it is!   We are almost to the quarry and its eleven pm!   Unreal.   It's usually 2 in the morning around here for me.  We trotted the last few miles of roads and walked down in to the check at the Quarry that is very well lit.  Lucy Turnbuckle Chipotle was there with strict instructions (In her British accent) for me from Judy to be sure the princess had a blanket on.   (We used to call him that as a puppy.  He's really pretty!)  He did- the ride guys tossed one on as we arrived.   I had my "moment of the ride" here when the Vet did Donnie's CRI.  His pulse was 48.   He listened to the horse for a minute, turned and shook my hand.   That felt as good as anything so far during the ride.  It gets cold in here, so Barbara and I zipped in and out of the check in just a few minutes.   We trotted off along the river with me feeling pretty good about life.   Just 6 more miles to go.
Across highway 49 (the Highway Patrol guys are so cool here) and up the trail, and over to no hands bridge.  This is more like it- trotting on across with the moon bright and the river to the left.  We scurried on down the fire road to the single track trail that climbs up to Robie Point.  We walked up with Donnie just hammering- he knew where he was.  He would have run to the top if I asked him to.  Over the top and onto the final road that takes you to the final single track.  We got to the spot 50 feet from the regular finish where the trail was extended – its literally 50 feet from the water tough at the regular finish spot.  There was enough yellow tape and glow bars there to help a jet land.  We had to turn left else we'd be caught like a fly in a spider web of plastic tape.  Donnie took a look to the right and told me I was making a mistake.  "The finish, sir, is right there."   I said "no, a little further please."   "Okay", he says and hops back into his trot.  I love this horse.   Another quarter mile of twisty single track through the trees and we arrived at the official finish at the "skateboard park."   (I expected a little more.  Auburn skateboarders need an upgrade)   We got our time slips and walked along the train tracks, then down to the final finish line in the arena.  I hopped back on Donnie for the finishing lap; I give him a little squeeze, and he takes off at a canter around the race track and under the banner.   You gotta love it.  We finished at about 12:20 am or so, a lot earlier than usual.
Yes, it was a great ride, but no, it wasn't really Tevis.   That's not a bad thing, just a fact.  It was not an "easy" ride like some people were afraid of, but it was not nearly as hard as the normal route over the Sierra.  I'm sure the perfect, cool weather helped the horses a lot, and the footing could not have been any better.  I was amazed that people finished from 7pm until 5:21am when Brandy Fergenchick brought her Norwegian Fjord "Dodger" across the line in time for a completion.   There were several riders, five I think, including Bob Spoor and Potato Richardson, that were pulled at the finish.   I know how that feels, but not this year.   Some rides of note- We all know Jeremy Reynolds pulled off another one with the win AND the Hagen Cup, on a horse owned by Scott Sansom.  Nice job, guys!  Our new friend and Squaw Valley sushi buddy Leigh Bacco got 8th, her friend Mat Scribner finished near 40th someplace.  (must have been that great Sushi, since  Team Squaw Valley Sushi went 3 for 3!)    Nevada's best Connie Creech finished her 10th Tevis.  So did Debby Lyon, and Roger Yohee.   Rachel Shackleford got 2nd on her cool Cody.  Wait a minute- I sponsored her as a junior it seems like just a couple of years ago!   Where is time going?  Dave Kaden, from Texas and Specialized saddles, (which I use and love- grab a Eurolight!) finished his first Tevis on a borrowed horse one rider ahead of me.  And of course Barbara- her 31st buckle?  What more can you say.  Maybe "auto-buckle."  Barbara thanked me for letting her and Brooke follow me all the way in.   Thank me?  It's an honor to have Barbara for a friend, let alone ride with her.  I feel for my friends who got pulled- Brenda, Monica, Kim, Bob- it's a bummer but part of the Tevis.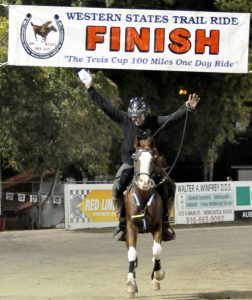 As for me, it was another really fun ride.   It's hard to not do that with Donnie, which is certainly a good thing.  This makes him 4 for 4 here, and yes, it counts as a Tevis finish.   I'm half way to that elusive 1000 mile buckle, which I will have.  (My fantasy- 10 for Donnie?  Now that would be something!)   There are 123 select people on the planet today who, ten years from now, will be able to say: "Yeah, I finished that crazy Tevis of 11.  It was weird, but really neat!"   That's what I'll say.  There should be some pretty lively talk at the Tevis party at the convention this year.  Funny- I usually have to wait a whole year for the next one, but as the web site says right now, it's only 42 weeks, 3 days, 15 hours, 41 minutes, and 10 seconds to the next Tevis.  I'll get started on that darn shoeing schedule.
A special tip of the helmet to the WSTF team.  I can't imagine what they went through.  I'm a ride manager, and it's hard enough to do a small, local ride with 50 horses.   To do what they did was nothing short of a miracle.  They wanted to save the ride, and boy, they sure did.
Special thanks as always to my crew: my sweetie Judy, and Becky Glazer.   I'll never get tired of saying thank you to Ron and Barbara Sanches, who put me and this fine animal together.  Thanks guys.  And thank you, Donnie.   You are a good boy.  See you next year!
Nick Warhol
Hayward, Ca