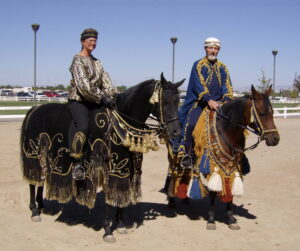 I have been raising Arabian horses for over 30 years with an emphasis on producing good performance horses for families.  My personal riding has been competitive trail and dressage, both disciplines that demand a great deal from the horse.
As a Registered Nurse, I have incorporated a very holistic view of horse care, and I use a multi-faceted approach to keeping horses healthy, willing and sound.  Good nutrition, proper conditioning and equipment that fits, is my approach to horse care.
After going through many different saddles in an attempt to find one that fit my horses and also was comfortable for me, I found Specialized Saddles!  I had been struggling with back soreness issues on my horses for the past 3 years and found myself getting very discouraged.  In hopes of solving this problem, I ordered a specialized Euro Light, and the very first ride my mare had no sore back to deal with.  My horse was moving as she never had before, improving her stride and way of going because she no longer had to guard her back from the unequal pressure of an ill-fitting saddle.  I was "sold" and decided to become a rep for Specialized Saddles.
What a blessing to be able to share these wonderful saddles with others and bring improved health, well-being and performance to their horses.
Sharon Roper
Good for your Horse
Website:  www.goodforyourhorse.com/
Email:  sjroper9345@aol.com
Phone: (970) 242-9278
Address:
255 Little Park Rd
Grand Junction CO 81507