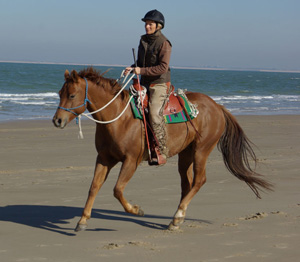 Saddle type: western with A-fork and pencil roll.
When I received my saddle by mail delivery 2.5 years ago, I could not wait to put it on my horse Jack and try it. Surprisingly, the saddle fitted him without any additional need for shimming and so I decided to mount Jack on the spot.
I could not believe the difference I felt at that time between my previous 8 -year old roper and my new specialized saddle.
I had the feeling I was riding bareback ! I could feel every movement of his back and shoulders, every muscle that he was using.
This is what I like the most in my specialized saddle, it is like riding without one.
The soft feeling you have with your horse can only improve the partnership and understanding of his movements and ideas.
And no pain in the a… after hours of riding, the saddle gives you all the comfort you need to stay in all day long (or week long as I did last year when driving cattle in Belgium!).
The saddle still looks very new, although it has been frequently used for more than 2,5 years now. The leather is still soft and strong, just how it should be.
The picture was taken a few days ago on the beach, we are both enjoying the ride.
Cecile Beeck, The Netherlands