SPECIALIZED SADDLES
FALL 2010 NEWSLETTER
TW Saddles – A Hit With The Pros!!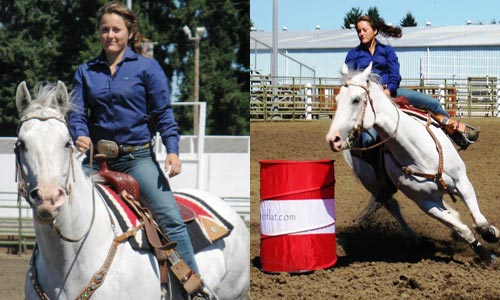 Since using a TW Barrel Revolution Pro Barrel racer Serena Mote (shown above) has won two Futurities. Using his ranch versatility Trainer Jason Patrick is getting ready for the fall upcoming Quarter horse shows, and some of his clients have ordered their own RVs after seeing his.
Specialized Riders Finish at the WEG Endurance Championship!!
American Endurance Team member Deborah Reich, using a Specialized International Saddle, finished the 100 mile race, this past Sunday In Lexington KY. Unfortunately, she was the ONLY American Rider to finish. Team Japan rider Chikako Nishiyama also finished, riding an International Model Specialized Saddle also, and she too, was the only member of her team to finish the 100 mile event..

Interestingly both riders were the only members of their respective teams to use Specialized Saddles, and both finished. Proof again, better saddle fit results in better performance. Blake Potter, Specialized factory manager attended the event, and checked the fit for competitors using Specialized Saddles, as part of our commitment to customer service, at this world championship.
Trade in Your Used Specialized Saddle
on a New Specialized Saddle !
We are introducing a new trade in program to help our customers trade up with minimum hassle. Many customers are wanting the new wider widths available on our new models.

We also have many potential customers looking for USED Specialized Saddles. Now we will offer factory reconditioned used saddles to help those who want the perfect fit only a Specialized Saddle can provide, at a used saddle price. See the web site for details
Share Your Stories
We have added a "share your stories" section to our website. We love to hear from you & see your photos! Please send 150 to 200 words about your horse and your experiences with your Specialized or TW saddle. View here
THEATRIC