HAPPY NEW YEAR!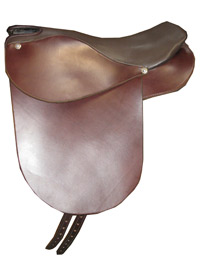 At Specialized Saddles we want to wish everyone a happy new year. We have grown and moved into a new larger factory in Anthony, New Mexico, which is just across the Texas state line and just north of El Paso, Texas.
We now have seat sizes for larger riders, which includes the western seat sizes 18 and 20 and our extra-wide trees for really wide horses.Our new plaid western pads are in stock. We look forward to working with you, our valued customers, to build the saddle of your dreams. If you do not see exactly what you are looking for, contact me to discuss our custom options.We have a new flat seat cutback english show saddle (on the right) and other new saddles in the testing pipeline.
SADDLE – FIT FOR THE RIDER
In the past few years, more and more people have become aware of the importance of saddle fit.
However, not as much attention has been given to fit and comfort for the rider. If the horseback experience is to be enjoyed to its fullest, a good fit for the rider is almost as important as fit for the horse.
I often talk about the three dimensions of saddle fit for the horse. Those are width, arch, and angle. Two of these, width and arch, have a lot to do with comfort for the rider also. We used our computer pressure pad system to examine saddle fit and the pressure on a rider's seat. Some very interesting information emerged. Read the complete article here
BLAKE & ARI WIN AERC NATIONAL STALLION AWARD FOR ENDURANCE IN 2009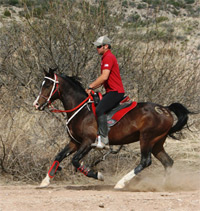 Blake Potter is Specialized Saddles general manager. He is also an avid endurance rider. Blake rode FLF go Flight Leader (Ari) to become winner of 2009 national AERC mileage Champion stallion, (Jim Jones award winner). Ari is owned by David and Tracy Kaden, Specialized Saddles Owners.
This was Ari's first year of endurance and he completed over 1,000 miles in competition.
What an accomplishment for a young horse, carrying a heavy weight rider. Saddle Fit is such a big part of this success!! Congratulations to Blake and Ari !!
IN THE MEDIA
Look for an upcoming show about Specialized Sadddles on Dish Network Channel 9411 in late February on the Wayne Williams "Speaking of Horses" TV show on Saturday and Sunday.
Also catch us in an upcoming article in Holistic Horse magazine.
MEET OUR PEOPLE
Blake Potter (shown here on FLF's Arab stallion "Ari") – Blake is the office manager at Specialized Saddles. Blake processes all orders and handles quality control, shipping and receiving.

Blake also is a lifelong horseman. He has competed in endurance, jumping and eventing.

Tracy Kaden – Tracy is an important part of the Specialized Saddles team. Not only is she David's wife but she manages prototype testing including durability and comfort for women.

Tracy also runs Flight Leader Farm Endurance Training Center.

David Kaden – David Kaden is one of the few saddle makers who is still active as a rider and competitor. Every detail in the Specialized Saddle is conceived in the field for enhanced comfort for horse and rider.

David's mission is as simple as it is ambitious; to eliminate sore backs for all riding horses by spreading the use and availability of Specialized Saddles throughout the world.