Mary Beth Boruta is a New York Specialized Saddles Sales Rep and lives with her two daughters and husband in the Hudson River Valley.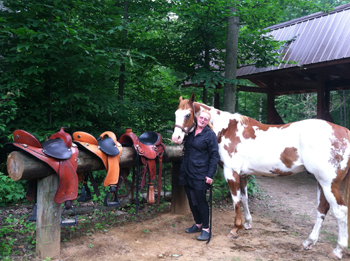 Mary Beth shares "I am a recreational horseman of forty years. I have Quarter Horses, a Quarter Arab, a Morgan Percheron, Appendix Quarter Horses, and two adorable Haflingers.
Because of the diverse saddle fitting needs of my many horses I discovered Specialized Saddles. I ordered a Trail Master and found that it fit every horse in my barn because of the 3D fitting system.
As I started using the saddle I found saddling behavior problems disappear. Ears forward, happy horses! I was hooked.
I am happy to travel to your home within the New York, Massachusetts, Connecticut area to help you choose and fit, or test ride your dream saddle."
Mary Beth Boruta Specialized Saddles NY Rep